Coral reef art | paintings by Gunnar Baldwin, Jr.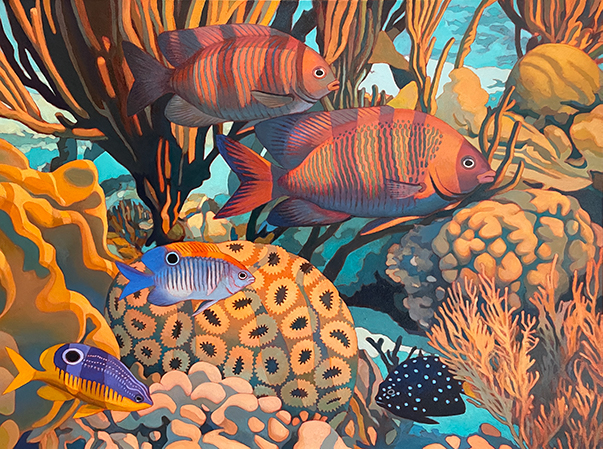 Les Demoiselles de Bonaire (oil on canvas, 40" x 30") Click for larger image
This is the most recent painting in the coral reef series I am creating to draw attention to the global crisis of coral reef degradation. It features several species of damselfish and their appearance at different stages in their life cycle.
Stripes on Yellow Hut Reef (oil on canvas, 36" x 36") Click for larger image
This canvas was also completed in late 2022, featuring two species of Caribbean butterfly fish and fire coral on a shallow reef just offshore from a cluster of small yellow huts formerly used to house slaves on Bonaire.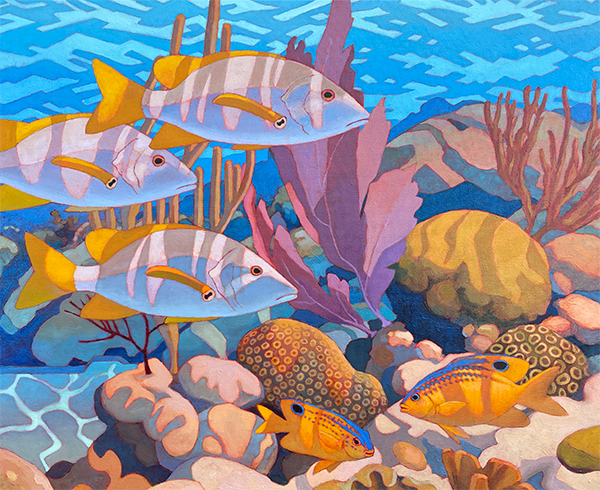 (Not yet titled) (oil on canvas, 30" x 24") Click for larger image
This painting includes schoolmaster snappers and longfin damselfish.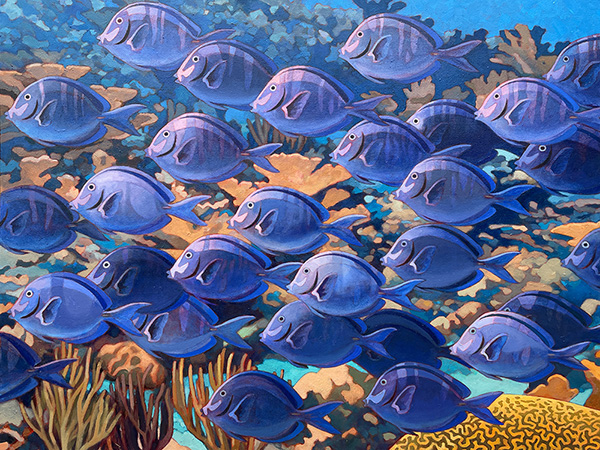 The Blue Screen (oil on canvas, 48" x 36") Click for larger image
Large schools of blue tangs are a common, but dramatic, sight on Caribbean reefs, forming a dense blue "screen" that obscures the underwater scenery behind them. This painting was completed in 2022.
Chelonia (30" x 30") Click for larger image
This is the fifth painting in the coral reef series. Since sea turtles are both iconic symbols of healthy marine ecosystems and dependent on them, I felt it was important to include them. This painting depicts a Green Sea Turtle and derives its title from the turtle's Latin name, Chelonia Mydas. Green Sea Turtles are threatened in most parts of their range.
School Colors (40" x 32") Click for larger image
This painting (fourth in the series) aims to capture the flickering light, three-dimensional space, and the overwhelming of one's visual experience that is characteristic of snorkeling or diving on a healthy coral reef. Unlike many well-composed pieces of art, there is no "resting place" for the eye. This is intended. When swimming in a coral reef, there are an infinite number of moving objects and points of light competing for one's attention. In the kaleidoscope of a reef, our eyes simply cannot follow them all.


Elkhorn Coral Shallows (40" x 28") Click for larger image
This is the first of the series of coral reef paintings. Elkhorn coral has been a prominent and iconic feature of underwater landscapes in the Florida Keys, Caribbean, and Bahamas and has experienced a high mortality rate within its range. While efforts to propagate and restore elkhorn coral by coral farming and research organizations have been quite promising to date, vast areas of degraded reef will require an enormous commitment of time and resources to achieve significant restoration at scale.
Trunkfish and Fileish (30" x 30")
This painting (sixth in the series) offers a close-up view of two intriguing species of fish found on Caribbean reefs: a scrawled filefish (Aluterus scriptus) and a smooth trunkfish (Lactophrys triqueter).
The Yellow Dome (40" x 30") Click for larger image
This painting features brain coral—one of the most iconic corals in Caribbean Reefs—as well as a French Angelfish, whose striking yellow marks on its scales are arranged in a geometric pattern. This painting depicts the appearance of sunlight as it filters through the water and dances over the features of a reef, the way it is actually experienced when snorkeling or diving on a reef.
Queen Triggerfish with Sea Fans (24" x 24")
This painting aims to depart from conventional depictions of coral environments, emphasizing light, color, and form, accentuating broken light—the way that environments and their components are often revealed in nature. This series draws on the artist's own observations.